FIRST OPPORTUNITY TO EXPERIENCE STACK LINCOLN AT ST MARKS SHOPPING CENTRE
Post date: 07 February 2023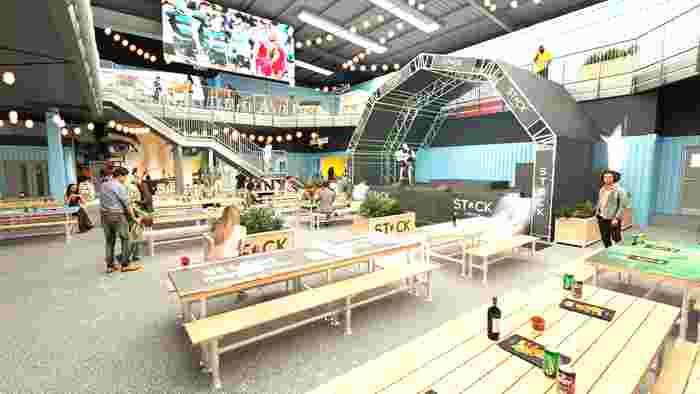 FIRST OPPORTUNITY TO EXPERIENCE STACK LINCOLN AT ST MARKS SHOPPING CENTRE
People in Lincoln can get a flavour of the city's food, drink and entertainment complex, following the release of a number of images.
The former Argos store at St Marks Shopping Centre is set to become STACK Lincoln, a large-scale hospitality venue which will include five bars, ten street food outlets, a coffee shop and roof terrace, as well as a central plaza area with a stage for live performances.
And the developers and operators behind the scheme, Danieli Group, have now created a whole host of imagery which will give a real taste of what the exciting and ambitious project will be like when complete.
Work has started on the strip out of the existing unit – with the plan for the 2000-capacity venue to be completed by the end of the summer 2023.
STACK is well on its way to becoming a nationally recognised brand, with a successful container village in Sunderland and plans for the permanent return of the flagship Newcastle STACK to a new city centre site.
Other proposed new locations for 2023/24 are Middlesbrough, Durham, and Carlisle.
The Lincoln scheme is based at what was initially St Marks Church before becoming a railway station and more recently, St Marks Shopping Centre which housed the Argos store until it closed in 2020.
Neill Winch, CEO of Danieli Group, is delighted to be able to give a taste of what STACK Lincoln will look like when completed.
"These new designs show what people can expect when the development is complete and what an exciting addition to the city it will be," he said.
"We know from experience how much STACK appeals to people of all ages and we look forward to replicating the success we have had at other sites in Lincoln."
Valerie Johnson, Centre Manager at St Marks Shopping Centre, said:
"The plans for STACK are incredibly exciting and show what a fantastic addition this will be to St Marks. This concept is completely new to the city and will offer a unique experience for not only the people in Lincoln but the surrounding areas as well."