STACK SET FOR FURTHER EXPANSION WITH PLANS FOR NORTHAMPTON
Post date: 09 August 2023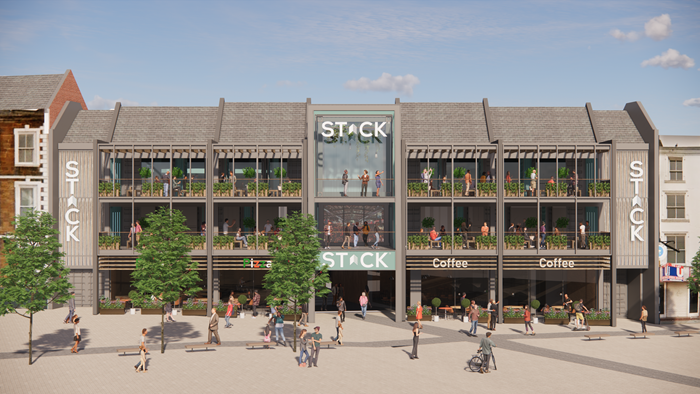 STACK SET FOR FURTHER EXPANSION WITH PLANS FOR NORTHAMPTON
LEADING leisure developer, STACK, is set to open its first venue in the Midlands having successfully completed on a site in Northampton.
Market Walk shopping centre, in the town centre, has been empty for a number of years but is now set to have new life breathed into it, with an exciting regeneration and development project.
STACK completed on the Market Walk site on Monday 1 August and plans to transform the retail space, subject to relevant planning and licensing permissions.
The repurposing of the shopping centre will enhance the town's vibrancy and vitality, supporting both the daytime and evening economy.
The new STACK will be home to independent street food outlets, bars, a dedicated space for interactive games and a main stage for live music and entertainment.
The scheme is being supported by West Northamptonshire Council, which is providing up to £4.2m investment through the *Towns Fund, with a further £8m investment from STACK.
It will complement other transformations taking place in the town centre, including in the historic Market Square, Abington Street and Fish Street.
Neill Winch, CEO of STACK said the company was "thrilled to announce plans to bring STACK to Northampton and support the council's vision to reinvigorate Market Walk."
"With its prime location in the heart of the town centre, STACK presents an excellent opportunity to create a dynamic and convenient destination for visitors and residents alike," he said.
"The ongoing investment in Northampton's Market Square to revitalise the town centre aligns perfectly with our vision. By introducing STACK during this pivotal moment, we aim to contribute to the town's revival and enhance its appeal as a thriving hub of entertainment and leisure.
"The proven success of our mixed-use development model in other cities has been nothing short of remarkable. STACK has captivated visitors and generated substantial footfall. We believe this winning formula will resonate with the people of Northampton and offer them an unparalleled experience."
Cllr Dan Lister, Cabinet Member for Economic Development, Town Centre Regeneration and Growth at West Northamptonshire Council, said: "We are delighted that STACK will be bringing their first facility to the Midlands and will be opening an innovative food and leisure space in the heart of Northampton Town Centre.
"The scheme offers something unique for our town centre and differs greatly from those previously explored for the site.
"Market Walk is situated on Market Square and coupled together these two regeneration projects are set to rocket the leisure economy in Northampton by providing a diverse mix of entertainment, food and drink, and retail opportunities alongside fresh local produce provided by our market traders.
"Following the successful acquisition, the developers will now take the first steps to seek the relevant planning and licensing permissions to bring this project forward for delivery over the coming months."
The plans for a STACK in Northampton is the latest in a number of announcements made by the company as it rolls out its master plan to become a nationally recognised brand.
A new home for STACK Newcastle at Worswick Chambers is currently underway with STACK Seaburn at Sunderland continuing to attract huge visitor numbers.
Recently it was announced that STACK would be partnering with Newcastle United Football Club and the club's front-of-shirt partner, Sela ,to deliver a 'best in class' fan zone at Strawberry Place, close to St James' Park.
Subject to planning and licensing being granted, it is hoped the fan zone will operate not just on match days but seven days a week, with an initial lifespan of three years.
Also currently in the pipeline are STACK schemes in Durham, Bishop Auckland, Carlisle, Whitley Bay and Lincoln, which are a mix of container villages and repurposed underused sites.